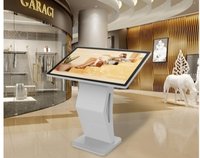 LCD Touch Kisok
Product Description
The Floor Stand LCD Display comes with a built in HD Android media player, enabling users to update them utilizing the USB memory stick. It can load your pictures as well as videos onto a USB memory and then copy the files into their internal flash memory. It comes with continuous loop and are particularly engineered from the ground up to weather the elements with protective glass and high-brightness can display your message in cold, rain, heat, snow and dust. Outdoor Digital Signage comes with extended functionality as well as high serviceability. These are ready to to work around the clock and empower users to always present a dynamic as well as vibrant message.

Key Points of Floor Stand LCD Display:
Play as well as manage your content right out-of-the-box with our fixed signage Platform.
These displays are able to withstand hot as well as cold surroundings but they are able to achieve the internal conditions to maximize the durability of your product.
Allow the display to work optimally in all climates. The outer casing of these can resist dust and other particles. Totally protected from all wet weather conditions; widening the ambit of possible environments.
Appropriate for the harshest of outdoor conditions - made with robust, erosion protected, outer casing to render protection from both the elements as well as the public.